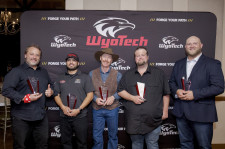 The leading automotive, diesel and collision trade school has inducted six alumni during a ceremony on June 2.
LARAMIE, Wyo., June 7, 2023 (Newswire.com) - WyoTech, the leading automotive trade school, announces its inaugural Hall of Fame class, with alumni including a John Deere master tech whose YouTube videos have garnered 8 million views, a custom car builder who returned as an instructor, and a trailblazer known as "The Fastest Woman on Earth."
"Each of the six alumni has achieved tremendous career success and demonstrates WyoTech's capability of training students to succeed across the entire spectrum of the trade industry," said Jim Mathis, president and CEO of WyoTech. "We're honored to recognize them as the first inductees of WyoTech's Hall of Fame and to show the public the kind of impact our graduates have on the trade industry and the world."
To be eligible for the WyoTech Hall of Fame, alumni must be five years post-graduation and established in the industry. Once nominated, the inductees will be asked to participate in WyoTech's "give-back" programs, such as participation in a Program Advisory Committee or serving as a volunteer teacher in a workshop for current or summer seminar students.
The inaugural WyoTech Hall of Fame Class is (in alphabetical order):
John Alonzo, Racing Operations-Marketing Director for the Race Shop at Scoggin Dickey Parts Center in Lubbock, Texas, one of the world's leading dealers of high-performance engines and GM parts.
His story: Alonzo has had a passion for cars and racing since he was a boy, growing up in his uncle's automotive shop and watching him compete in drag races. Alonzo enrolled at WyoTech shortly after high school and it left a strong impression: "WyoTech instilled knowledge, punctuality, and a strong work ethic in me. The school held its students accountable for their actions and held us to a high standard that ultimately prepared me to succeed in the workforce." He has worked his way up to his current position, at Scoggin Dickey's in-house premier machine shop, specializing in high-performance engines. "I'm working at my dream job and get to showcase our product at the racetrack," he said.
His advice to students: "Believe in yourself, enjoy the process and the path that it leads you to. Arrive early, stay late, do what must be done and hold to the vision until those sacrifices pay off. Love it, Learn it, Live it."
Jessi Combs (1980-2019)
Born in Rapid City, South Dakota, Jessi Combs found a love for speed and its machines at a young age. She became a welder, fabricator, builder, racer, artist, entrepreneur, and trailblazer. Jessi attended WyoTech and studied Collision/Refinishing, Chassis Fabrication, Street Rod Fabrication, and Trim/Upholstery. She graduated top of her class in 2004 with a degree in Custom Automotive Fabrication and accepted her first job from the trade school's marketing department to build a custom car with Ben Bright to represent WyoTech at the Specialty Equipment Marketing Association's (SEMA) show and charity auction. This project paved the way for Jessi to appear on "Overhaulin'" as a guest fabricator and launched her career in television. She went on to co-host "Xtreme 4x4" on Spike TV and created more than 90 episodes over four years while maintaining her integrity as a metal fabricator, builder, and industrial artist. That earned her additional appearances on shows, including "Mythbusters" and "All Girls Garage."
Jessi was a fierce competitor in auto racing, where Ultra4's King of the Hammers crowned her "Queen of the Hammers" with first-place finishes in 2014, 2016, and notably in 2018 with her custom-built Jeep, "Goldie Rocks."
She broke stereotypes and records by joining the North American Eagle Supersonic Speed Challenger team and in 2013 became "The Fastest Woman on 4-Wheels" at 398 mph, with a top speed of 440 mph. In 2019, she set a new Women's Landspeed World Record at 522.783 mph before the accident that took her life. That feat and her career were memorialized in the HBO Max documentary "The Fastest Woman on Earth."
The Jessi Combs Foundation's advice to students through the quotes of Jessi: "Choose a career that you enjoy and you'll live a happy and fulfilling life! Forget what society tells you is the norm, you can make a living doing anything you want as long as you have passion for that craft, remain focused and determined and get the education and certifications that will give you confidence. I research, restore & race vintage race cars for a living, that's insane but it's real! I didn't get here with money or a famous last name, I worked hard and produced results against all odds. I never took an easy route, I simply stuck to it and never gave up."
Dave Gilley, founder and owner of Gilleyfab Enterprises, near Salt Lake City, Utah, known for top-tier, fine-quality fabrication in the UTV industry.
His story: Gilley has been in and around all sorts of metalwork since he was a boy. He cut classes in high school to spend more time in the metal shop. Before and after school, to stay away from troubled home life, Gilley put his time into work at a precast shop, cutting, welding and doing minor repairs. Then in his junior year, he met a WyoTech rep, and it changed his life. "He mentioned Motorsports Chassis Fab, and right then I was hooked and knew that is what I wanted to do," Gilley said. He went on to be class valedictorian and eventually launched Gilleyfab. "I'm proud to say today I have a wonderful facility, filled with amazing people and equipment," he said. "I've been in business for over 10 years now, and we are not slowing down. I'm very thankful to WyoTech and all the wonderful people that helped me a long the way to get where I am today."
His advice to students: "Always do your absolute best; you will fail, however, learn from failures and turn them into lessons. Some will absolutely hurt, but always turn the negative energy into a positive and make the best of it. Constantly set goals, build your skill set, become confident but not cocky, and when you do produce quality, stay humble."
Levi Green, owner and instructor, HammerFab, near Austin, Texas, which specializes in handcrafting upscale turn-key customs and industry-leading fabrication tools and parts.
His story: Green grew up on a 40-acre farm in rural Missouri, tinkering with a 1958 Apache truck that an uncle had given him. "Dad and I had plans to work on the old truck and learn to do the metal work ourselves, but my skills were not up to the task," he remembers. He brought the truck with him to WyoTech, where he used it as a class project to hone his skills. With his WyoTech experience, he worked his way up through a number of shops before founding Hammerfab.
His advice to students: "When you get turned down for an opportunity, there is a better one around the corner. Don't wait on everyone around you to approve of what you know you need to do. Chase after what God has put you on this earth to be great at. Don't expect to be a rock star overnight. Be diligent, take one step at a time. It took me 20 years to get where I'm at today. Just don't give up, keep getting better, and move forward no matter what!"
Zeth Key, Master John Deere Service Technician, Sloan Implement, Illinois.
His story: Key became interested in cars while in high school, working on his 1977 Chevy Nova with his father. He was taking automotive technology classes in high school when he met a WyoTech recruiter, and after a visit, he was sold. In 2007, he earned his associate degree in Automotive Technology, Chassis Fabrication and High Performance Engines and Business Management. He chose a career working on John Deere Ag equipment in order to support his family and his wife's return to college. "I quickly fell in love with the 'green iron,'" he said, and earned his Master John Deere Service Technician certificate. In April 2008, he launched a YouTube channel in honor of his late friend, Jake, to promote the trade they loved and to "inspire a younger generation to pick up a wrench and start a great career" keeping agriculture running. In two years, the channel grew to 63,000 subscribers and 8 million views. "Through this channel, I'm able to promote John Deere, Sloan Implement, and WyoTech," he said. "I have brought in technicians into our dealership, and I have had the privilege to inspire people from all over the globe to become Ag technicians."
His advice to students: "Be the best student you can possibly be and set high goals. This will help you develop the correct mindset you will need to become successful in the future and add value to yourself. Learn how to be resourceful enough to teach yourself ... Understand that you will not know everything when you graduate from school. You will need to humble yourself and treat every day as a learning day."
Randy Svalina, WyoTech Specialties Instructor
Svalina grew up as a ranch kid who hated school and "swore I'd never return to a classroom after graduating." He worked in ranching and guiding hunters and fire crews but developed a love of cars and decided to train at WyoTech. He graduated in June 1989 with plans to go into building and showing street cars. But after eight years of doing that work with a close friend, he returned to WyoTech as an instructor. The plan was to have a steady income while building his own custom shop, but discovered a love and passion for teaching and developed an idea he calls "discipleship on tires," teaching students not only a curriculum but a way of life that helps their families and their communities. "What I once did with my own hands was cool, self-gratifying, paid well enough to live a good life, and seemed great until I learned of something far deeper," he said. "As a part of WyoTech, we help others reach their goals, their dreams, raise their families, and succeed in their journey."
His advice to students: "Show up, work hard, have faith. Do these things and the rest will fall into place. 1 Thessalonians reminds us to '... aspire to lead a quiet life, to mind your own business, and to work with your hands ...' Remember that everything that you do has your fingerprint on it and is worthy of your effort, your skill, your heart. Leave your mark on the world one task at a time, one life at a time. Live your life with integrity and always try to put a smile on those that you encounter. Be who you needed when you were young."
About WyoTech
WyoTech, formerly known as Wyoming Technical Institute, is a for-profit technical college founded in Laramie, Wyoming, in 1966. WyoTech provides training programs that prepare students for careers as technicians in the automotive and diesel industry with nine-month training programs that focus on hands-on experience.
Source: WyoTech
Share: